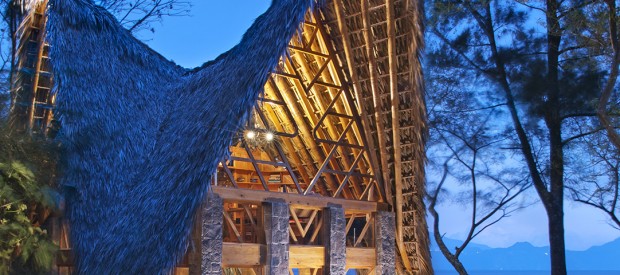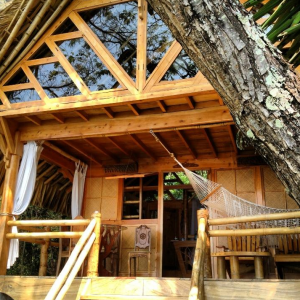 The architecture at La Fortuna at Atitlan was inspired by a backpacking trip Kat and Steve took in 2009. The outdoor bathrooms are reminiscent of a bungalow they stayed at in Bali, and the roof lines are reminders of some of the gorgeous bungalows they stayed at in the Gili Islands. All the materials used in the creation of the buildings and furniture are locally sourced and crafted by local craftsmen.
The personal touches are present everywhere you look from the knick knack filled custom bar in the reception to the hand made glass beads made by Steve's artist mom to the beautifully crafted wooden boxes made by a local non-for-profit carpentry school found in the reception building.
One of our favourite eco-design elements on the property is the stunning floating staircase in the front reception building. As a child Steve was mesmerized by the famous floating staircase in a church in Santa Fe and was so happy that he could reproduce it on the property.

The property features a wood heated hot tub on the waterfront which is hot each afternoon starting from 3pm.
---